Are you tired of cooking the same, bland dishes every night? Do you want to add some flavor and excitement to your meals? Look no further than cooking with wine.
Wine is a versatile ingredient that can enhance the flavors of your dishes in ways that traditional seasonings cannot.
In this comprehensive guide to culinary pairings, we will teach you everything you need to know about cooking with wine. From understanding basic wine terminology to advanced techniques for wine pairing, we have got you covered.
Whether you are a seasoned chef or just starting out in the kitchen, our guide will help take your meals to the next level and impress even the pickiest eaters at your table.
So grab a glass of your favorite vino and let's get started on this delicious journey together.
Understanding Basic Wine Terminology
You'll gain a deeper understanding of fundamental wine vocabulary in this section, elevating your ability to pair beverages with cuisine. Wine tasting basics are essential in determining which type of wine will complement a dish best.
Start by examining the color and opacity of the wine. Swirl it around the glass to release its aroma, then take a sniff. The nose can detect different flavors such as fruit, spice, or floral notes.
Identifying wine flavors and aromas is crucial when pairing them with food. You may taste vanilla or oak in a red wine that's been aged in barrels for months or years. White wines often have citrus or apple notes that can be paired well with seafood dishes like grilled shrimp scampi or steamed mussels with white sauce.
Once you have identified these aromas and flavors, you can begin to match them with specific dishes. The acidity level of a wine is another factor to consider when pairing it with food. High-acid wines pair well with fatty foods like cheese or meat because they cut through the richness of these dishes. Sweet wines go well with desserts since they balance out the sweetness and provide contrast to the dish's overall flavor profile.
By understanding basic wine terminology, you'll be able to elevate your culinary game and impress your guests at dinner parties effortlessly. Take note of these tips for identifying flavors and aromas next time you pour yourself a glass of vino!
The Different Types of Wine
As you explore the world of fermented grapes, you'll discover a diverse collection of personalities hidden within each bottle, much like a box of chocolates waiting to be unwrapped. Understanding the different types of wine can help you choose which ones to use when cooking.
Here are four types of wine that every aspiring chef should know:
Red Wine: Made from dark-colored grapes and fermented with the skins, red wines can range from light-bodied (such as Pinot Noir) to full-bodied (such as Cabernet Sauvignon). The most popular red wines for cooking include Merlot, Zinfandel, and Syrah.
White Wines: Made from white or green grapes (sometimes red grapes with skin removed), white wines are typically crisp and refreshing. Some common varieties include Chardonnay, Sauvignon Blanc, and Pinot Grigio.
Rosé Wine: Often overlooked in cooking, rosé wine is made by briefly fermenting red grape skins with white grape juice before removing them. With its fruity flavor profile and pink hue, rosé adds a unique touch to seafood paella or risotto dishes.
Sparkling Wine: Known for its effervescence and celebratory nature, sparkling wine is perfect for adding a touch of elegance to any dish. Champagne is perhaps the most well-known variety of sparkling wine; however, Prosecco and Cava also make great options.
Understanding where your favorite type of wine comes from can also add depth to your culinary creations. Different regions produce different flavors due to variations in climate and soil composition during vine growth – this is known as terroir in the world of winemaking! For example, Burgundy produces some of the best Pinot Noirs in France, while Italy's Tuscany region is famous for its Chiantis.
Incorporating various types of wine into your cooking can elevate your dishes to new heights. Whether you're using red wine for a rich beef stew or sparkling wine to add some pizzazz to your dessert, understanding the different types of wine and where they come from can help you make informed decisions in the kitchen.
The Art of Pairing Wine and Food
Get ready to elevate your dining experience by learning how to expertly pair different types of wine with your favorite dishes. The art of pairing wine and food is all about finding the perfect balance between both flavors. You don't want one overpowering the other, but rather complementing each other in a harmonious way. It's not as difficult as it may seem, but it does require some knowledge and practice.
One important factor to consider when pairing wine and food is the spices used in the dish. Spices can greatly affect the taste of both food and wine. For example, if you're cooking spicy chili peppers, a bold red wine like Syrah or Zinfandel would be a good choice because they can hold up against the heat.
On the other hand, if you're using milder herbs like basil or thyme, a lighter white wine such as Sauvignon Blanc or Pinot Grigio would be more suitable. Another thing to keep in mind is that there are no hard rules when it comes to pairing wine and food.
While certain combinations may be considered classic or traditional, ultimately, it comes down to personal preference. Don't be afraid to experiment and try new things! You might discover unexpected flavor combinations that work well together. In conclusion (just kidding!), mastering the art of pairing wine and food takes time and practice, but it's definitely worth it for an elevated dining experience.
Pairing Wine with Meat Dishes
If you're preparing a savory meat dish for your next dinner party, don't forget to consider the perfect wine pairing to impress your guests and elevate the flavors. The right wine can enhance the taste of your meat and add depth to the dish.
Red wines are a popular choice for pairing with meats as they have tannins that help cut through the richness of the meat. However, white wines can also be paired with certain types of meat dishes.
When it comes to red meats like beef or lamb, bold red wines like Cabernet Sauvignon or Syrah are excellent choices. These full-bodied wines complement the rich flavor of red meats, and their tannins help break down the fats in the meat, creating a harmonious balance between flavors. If you want to add even more flavor to your meat, try using a wine marinade before cooking.
White wines like Chardonnay or Pinot Grigio work well for lighter meats like chicken or pork. These crisp wines pair nicely with poultry and pork dishes without overpowering them. You can also use white wine reduction sauces as a flavorful way to enhance the taste of these meats.
In addition to pairing specific types of wine with different meats, it's important to consider how you're cooking your meat when choosing a wine pairing. For example, if you're grilling steak, you may want to choose a bolder red wine that can stand up to the smoky flavors from grilling. On the other hand, if you're roasting chicken in an oven with herbs and spices, a lighter white wine might be a better fit.
Pairing Wine with Seafood Dishes
Let's dive into pairing wine with seafood dishes and discover the perfect flavor combinations to enhance your next seafood feast. Choosing the right wine for different types of seafood is crucial in creating a balanced and enjoyable dining experience.
For lighter fish like cod or sole, go for a crisp white wine like Sauvignon Blanc or Pinot Grigio. These wines pair well with delicate flavors and won't overpower the dish.
When it comes to richer and bolder seafood, like salmon or tuna, consider pairing them with a medium-bodied red wine like Pinot Noir or Syrah. The tannins in these wines cut through the oily texture of the fish while also complementing its bold flavors.
For shellfish dishes like lobster or shrimp, try out a dry sparkling wine like Champagne or Prosecco. This will add some effervescence to your meal and highlight the natural sweetness of the shellfish.
Exploring unique wine and seafood flavor combinations can be an exciting way to elevate your cooking game. For instance, grilled octopus pairs beautifully with a smoky Mezcal or Aglianico from Southern Italy. Oysters on the half shell are best served with Muscadet from France's Loire Valley – this crisp white has a subtle minerality that perfectly complements the oyster's briny taste.
Pairing Wine with Vegetarian Dishes
You can elevate your vegetarian dishes with just the right wine pairing. Whether you're serving up a light appetizer or a hearty pasta dish, choosing the right wine can enhance the flavors of your meal and make it an unforgettable culinary experience. But how do you know which wine to choose?
Consider a crisp white wine like Sauvignon Blanc or Pinot Grigio for vegetarian appetizers. These wines have bright acidity that pairs well with lighter fare like salads or bruschetta. If you prefer something with more body and flavor, try a Chardonnay or Viognier. The richness of these wines can complement heartier appetizers like stuffed mushrooms or roasted vegetables.
When it comes to vegetarian pasta dishes, red wines are often the go-to choice – but not all reds are created equal! Opt for a medium-bodied red like Sangiovese or Syrah for tomato-based sauces or spicy dishes. These wines have enough tannins to stand up to bold flavors without overwhelming them. On the other hand, for cream-based pasta dishes, try a full-bodied white wine like Chardonnay or Chenin Blanc.
Pairing Wine with Cheese and Desserts
Wine can elevate any dining experience, and when it comes to pairing wine with cheese, there are a few things to keep in mind.
First, consider the intensity of the cheese. For example, a bold red wine like Cabernet Sauvignon pairs well with aged cheddar or gouda, while a lighter white wine like Sauvignon Blanc complements fresh cheeses such as goat cheese or feta.
Secondly, think about the texture of the cheese. A full-bodied red wine like Merlot pairs well with creamy and soft cheeses such as brie or camembert. If you prefer blue cheeses like Roquefort or Stilton, try pairing them with sweet dessert wines such as port or sherry for a perfect balance of flavors.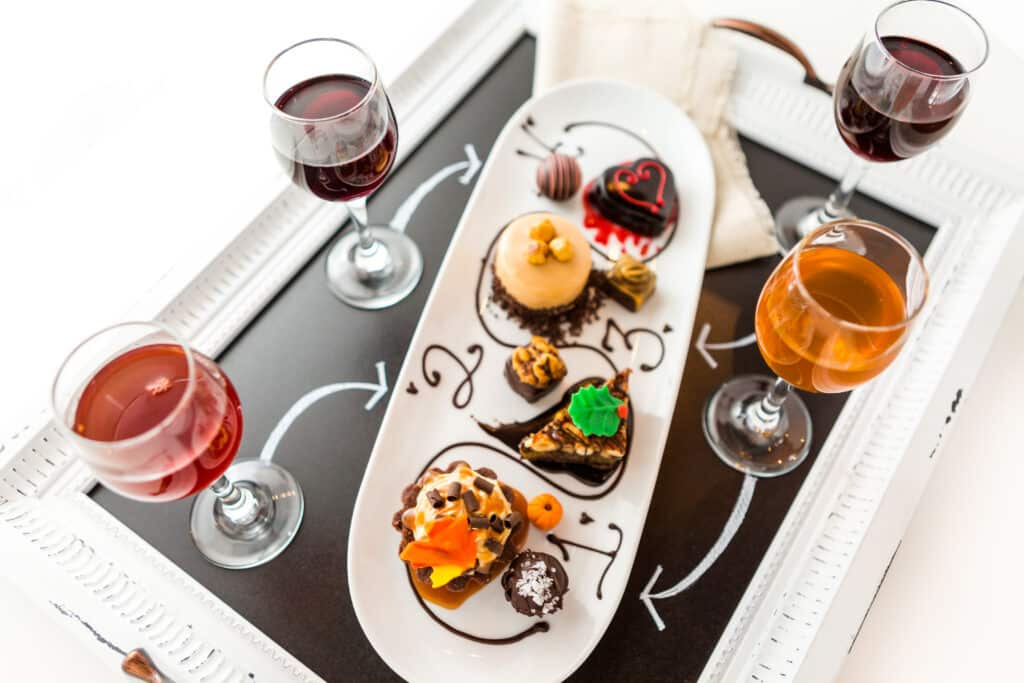 When it comes to desserts, wine can be just as versatile. One classic combination is wine and chocolate – dark chocolate pairs especially well with bold reds like Zinfandel or Syrah, while milk chocolate goes better with lighter reds like Pinot Noir. For fruit platters, consider pairing white wines such as Riesling or Chenin Blanc, which have a natural sweetness that complements fruits without overpowering them.
In conclusion – oops! I mean at the end of this guide – remember that food and drink pairings are largely subjective, and what works for one person may not work for another. Don't be afraid to experiment and try new combinations until you find what you love. With these tips in mind, you'll be able to impress your guests (or yourself) by taking your cheese and dessert game to new heights with perfectly paired wines. Cheers!
Cooking with Red Wine
Cooking with red wine can add depth and complexity to a dish, whether you're making a savory sauce or a hearty stew. When choosing which red wine to cook with, consider the dish's flavor profile and choose a wine that complements it. For example, a bold Cabernet Sauvignon pairs well with red meat dishes, while Pinot Noir is better suited for lighter fare like poultry or fish.
To get started with cooking with red wine, try making a simple red wine reduction. This sauce is perfect for drizzling over steak or roasted vegetables. To make the reduction, start by sautéing shallots in butter until they are translucent. Add some garlic and cook for another minute before pouring your chosen red wine. Let the mixture simmer until it has reduced by about half, then strain out any solids and continue simmering until it reaches your desired consistency.
Marinades are another great way to incorporate red wine into your cooking. A marinade made with red wine can help tenderize tougher cuts of meat while adding flavor. To make a basic marinade, combine olive oil and red wine with chopped herbs like rosemary or thyme and minced garlic. Allow the meat to marinate for at least an hour before grilling or roasting.
Cooking with White Wine
The light and fruity notes of white wine make it an excellent addition to sauces and marinades.
White wine is versatile in its culinary uses, whether you want to add a tangy flavor to seafood or give a citrusy hint to chicken. Using white wine in sauces can be a game-changer for any dish. It adds depth and complexity that other ingredients cannot provide.
When making creamy pasta sauces, adding white wine can balance the heavy creaminess and lend a bright acidity that makes the sauce palatable. You can also use white wine as the base for glazes or reductions for meats like pork or lamb.
Marinating with white wine is another way to elevate your cooking game. The acid in the white wine helps break down proteins which tenderizes meat while imparting flavors from the herbs and spices used in the marinade.
Marinating chicken breasts with garlic, rosemary, and Chardonnay will give it a savory taste that's hard to resist once it hits the grill. Incorporating white wine into your cooking not only adds flavor but also sophistication without having to break the bank on expensive ingredients.
Advanced Techniques for Wine Pairing
Take your wine pairing skills to the next level with advanced techniques that impress even the most discerning palate.
Wine flavor extraction and spice pairing are two of the most important aspects to consider when creating an exceptional meal. Here are some tips for mastering these techniques:
To fully extract the flavors from wine, it's important to let it breathe before using it in cooking. Pour the wine into a decanter or carafe and let it sit for at least 30 minutes before using it. This allows oxygen to interact with the wine, bringing out its full potential.
Red wines tend to have stronger, bolder flavors than white wines. Use red wines in dishes that can hold up to these strong flavors, such as stews or sauces.
White wines have lighter, more delicate flavors than reds. Use them in dishes that require a more subtle touch, like seafood or chicken.
When pairing spices with wine, it's important to consider both the spice's intensity and the wine's strength. Stronger spices can overpower lighter wines, while milder spices may be difficult to detect in bold reds.
For spicy foods like Indian curries or Thai stir-fries, pair them with a sweeter white wine like Riesling or Gewürztraminer. The sweetness helps balance out the heat.
For herbs like rosemary or thyme, pair with a medium-bodied red like Merlot or Cabernet Sauvignon. These wines have enough body and tannins to stand up against strong herb flavors.
Utilize these advanced techniques for wine pairing to take your culinary creations to new heights and impress even the toughest critics.
Remember that practice makes perfect when it comes to cooking with wine. Experiment with different combinations until you find what works best for your taste buds. With time and practice, you'll become a master at extracting the full flavors of wine and pairing it perfectly with spices and herbs. Let your creativity take over, and have fun in the kitchen!
Frequently Asked Questions
Can you substitute wine with any other ingredient in a recipe?
Looking to modify a recipe that calls for wine but don't have any on hand or prefer not to use it? Wine substitutes can come in handy for those who want to make recipe modifications.
While there's no exact replacement for wine, you can try a few options. For example, vinegar or lemon juice can be used as a substitute for white wine in certain recipes. Red wine can be replaced with beef or chicken broth, while apple cider vinegar mixed with water can stand in for red wine vinegar.
Keep in mind that these substitutions may alter the flavor and acidity of your dish, so it's always best to experiment and adjust accordingly until you find the perfect combination of ingredients that suits your taste buds!
How much wine should you use when cooking?
When it comes to adding wine to your cooking, the wine-to-food ratio is crucial. But let's be honest, you don't want to go overboard and end up with a dish that tastes like a boozy mess.
So, what's the right amount of wine to use? Well, it depends on the recipe, but as a general rule of thumb, aim for around 1/4 cup of wine per serving. And when it comes to choosing the best cooking wines, opt for dry varieties such as Sauvignon Blanc or Pinot Grigio for white meats and fish, and full-bodied reds like Cabernet Sauvignon or Merlot for heartier dishes like stews and roasts.
Just remember that cooking with wine can add depth and complexity to your meals, but moderation is key!
What are some common mistakes to avoid when cooking with wine?
When it comes to cooking with wine, there are some common mistakes that you should avoid if you want to achieve the best results.
One of the biggest mistakes is not considering wine pairing tips when choosing a wine for your recipe. Different wines have different flavors and aromas and may not work well with certain ingredients or dishes.
Another mistake is using too much or too little wine in your recipe. This can affect the overall taste and balance of the dish. It's important to follow recipes carefully and adjust the amount of wine based on personal preference.
By avoiding these common cooking mistakes, you can elevate your culinary creations and make sure that every bite is full of flavor and satisfaction.
Can you cook with any type of wine or are some better suited for certain dishes?
If you're a foodie who loves to cook and experiment with different flavors, then you know that cooking with wine can elevate your dishes to the next level. But not all wines are created equal when it comes to cooking.
Each type of wine has its own unique flavor profile and aroma, which means that some wines are better suited for certain dishes than others. For example, a full-bodied red wine like Cabernet Sauvignon pairs well with rich beef stews or hearty pasta dishes. On the other hand, a crisp white wine like Sauvignon Blanc is perfect for seafood or light chicken dishes.
Understanding wine pairing suggestions and cooking techniques with different types of wine can help you create delicious meals that will impress your guests and satisfy your subconscious desire for culinary freedom.
How can you tell if a dish has been overpowered by the taste of wine?
When cooking with wine, it's important to find the right balance of flavors. One common mistake is using too much wine, which can overpower the dish and leave an unpleasant aftertaste.
To avoid this, start by adding small amounts of wine and tasting as you go. If you do end up with a dish that's been overpowered by wine, there are a few ways to adjust the flavor balance.
You can try adjusting the seasoning or adding other ingredients to help counteract the strong taste of the wine. Another technique is to reduce the wine before adding it to the dish, which will intensify its flavor while minimizing its impact on the overall taste of your meal.
With a little know-how and some experimentation, you can learn how to use wine reduction techniques to enhance flavors in your cooking without sacrificing balance and harmony in your dishes.
Conclusion
Congratulations! You've completed a comprehensive guide to cooking with wine and pairing it with food. By now, you should know all the basic wine terminologies, different types of wines, and the art of pairing them with dishes.
Remember that there are no hard and fast rules when it comes to wine pairing. It's all about experimenting and finding what works best for your taste buds. As the old adage goes, "In vino veritas" or "in wine, there is truth." So let yourself be guided by your palate and enjoy the journey!
Cooking with wine can add amazing flavors and aromas to your dishes. Whether you're using red or white wine, make sure to choose a quality one that complements the flavors in your recipe. And don't forget that advanced techniques such as decanting can enhance the experience even further.
Now go forth and impress your family and friends with your newfound knowledge on cooking with wine! Cheers!