Do you ever wonder why your favorite recipes don't turn out perfect every time? One of the most common reasons is inaccurate measurement. Culinary techniques rely heavily on precise measurements of ingredients, and even a slight deviation from the recipe can make a big difference in the final result. That's why it's important to master cooking measurements and conversions.
In this article, we'll cover everything you need to know about cooking measurements, including different units of measurement, conversion formulas, measurement conversion calculators, common measurement substitutions, and tips for accuracy. Whether you're a novice cook or an experienced chef, this article will help you take your culinary skills to the next level.
Key Takeaways:
Precise measurements are essential for culinary success.
Understanding different units of measurement is crucial.
Conversion formulas and calculators can help you convert between units of measurement.
Common measurement substitutions can be used when specific ingredients or tools are not available.
Practical tips and techniques can help ensure accurate cooking measurements.
Understanding Cooking Measurements
When it comes to cooking, precision is key, and accurate measurements can make all the difference in the outcome of your culinary creation. Understanding the different units and measurements used in cooking is an essential skill for any aspiring chef.
Some of the most common measurements used in cooking include cups, tablespoons, teaspoons, ounces, and grams. These measurements can be used to measure both liquid and dry ingredients.
| Unit of Measurement | Abbreviation | Equivalent |
| --- | --- | --- |
| Cup | c | 8 fluid ounces |
| Tablespoon | tbsp | 3 teaspoons |
| Teaspoon | tsp | 1/3 tablespoon |
| Ounce | oz | 28 grams |
| Gram | g | 0.035 ounces |
It's important to note that some recipes may specify weight measurements in ounces or grams, while others may use volume measurements in cups or tablespoons.
Measuring Dry Ingredients
When measuring dry ingredients, it's essential to level off the measuring cup or spoon using the back of a knife or a straight edge to ensure accurate measurements.
Pro tip: When measuring flour, it's best to use a scale for the most precise measurements since the density of flour can vary significantly.
Measuring Liquid Ingredients
Measuring liquid ingredients can be a bit trickier since the surface tension of the liquid can cause it to form a curved surface at the top of the measuring cup. Be sure to check the measurement at eye level to get an accurate reading.
Pro tip: For sticky liquids like honey or syrup, lightly coat the measuring spoon or cup with oil or cooking spray, and the ingredients will pour out more easily.
Now that you have a basic understanding of cooking measurements, you can move on to converting between units of measurement in the next section.
Converting Between Units of Measurement
Now that you understand the basics of cooking measurements, it's time to learn how to convert between different units of measurement. This skill is essential for successfully following recipes and creating delicious meals.
One of the most common units of measurement used in cooking is the ounce. However, there are several types of ounces, including liquid ounces and weight ounces, which can cause confusion. To convert between ounces and other units of measurement, use the following formulas:
Unit of Measurement
Conversion Formula
Cups
1 cup = 8 fluid ounces
1 cup = 16 tablespoons
1 cup = 48 teaspoons
Fluid Ounces
1 fluid ounce = 2 tablespoons
1 fluid ounce = 6 teaspoons
1 fluid ounce = 0.125 cups
Weight Ounces
1 weight ounce = 28.35 grams
1 weight ounce = 0.0625 pounds
Teaspoons
1 teaspoon = 0.17 fluid ounces
1 teaspoon = 0.05 cups
1 teaspoon = 0.005 pounds (weight ounces)
Tablespoons
1 tablespoon = 0.5 fluid ounces
1 tablespoon = 0.063 cups
1 tablespoon = 0.03 pounds (weight ounces)
It's important to note that when converting between weight and volume measurements, the density of the ingredient can affect the accuracy of the conversion. For example, one cup of flour may weigh less than one cup of sugar, so it's important to use a kitchen scale for precise measurements.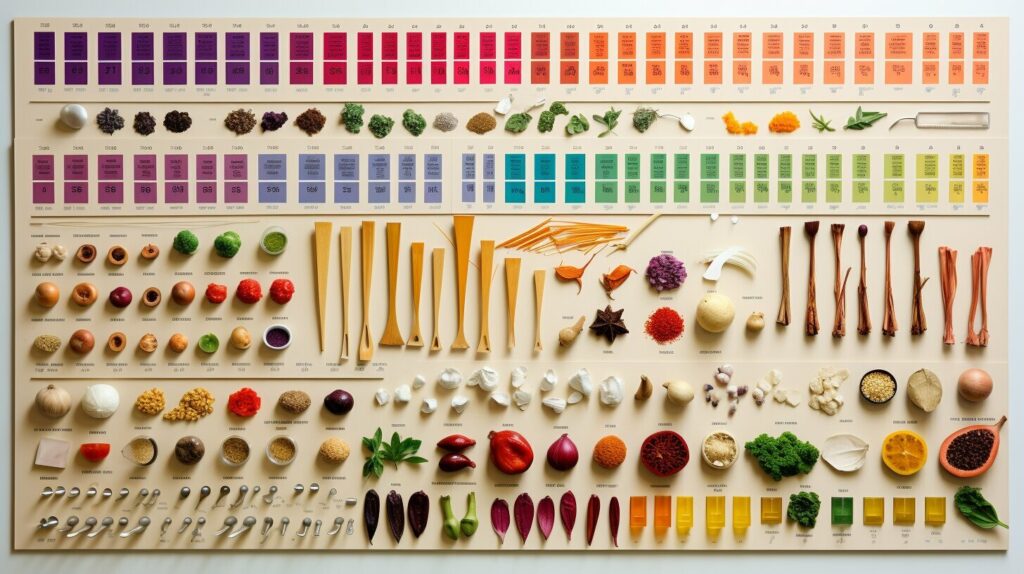 In addition to conversion formulas, there are several conversion calculators available online and as mobile apps that can make conversions even easier. Simply input the measurement you have and the measurement you want, and the calculator will do the rest.
By mastering the art of conversion, you can confidently tackle any recipe and create delicious meals for yourself and your loved ones.
Using a Measurement Conversion Calculator
If you're not a math whiz or just want an easier and more convenient way to convert measurements, consider using a measurement conversion calculator. These handy tools can quickly and accurately convert between different units of measurement so you can focus on your cooking without worrying about the math.
There are many conversion calculators available online or as mobile apps, such as MyRecipes Cooking Calculator, Epicurious Conversion Calculator, and The Kitchn Cooking School Conversion Calculator.
Using a conversion calculator can save you time and minimize errors in the kitchen. Plus, many calculators allow you to input your own custom conversion units, making it even more versatile for your specific needs.
Don't let conversions stress you out. Use a conversion calculator for quick and easy measurements!
Common Cooking Measurements Charts
Charts are a quick and easy reference for converting cooking measurements. Here are some common charts you can use in the kitchen:
Volume Conversions
| Measurement | Cups | Fluid Ounces | Tablespoons | Teaspoons |
| --- | --- | --- | --- | --- |
| 1/4 cup | 4 | 2 | 4 | 12 |
| 1/3 cup | 5 1/3 | 2 2/3 | 5 1/3 | 16 |
| 1/2 cup | 8 | 4 | 8 | 24 |
| 1 cup | 16 | 8 | 16 | 48 |
Weight Conversions
| Measurement | Ounces | Grams |
| --- | --- | --- |
| 1/4 lb | 4 | 113 |
| 1/2 lb | 8 | 227 |
| 1 lb | 16 | 454 |
Temperature Conversions
| Fahrenheit | Celsius |
| --- | --- |
| 32 | 0 |
| 212 | 100 |
| 375 | 190 |
Bookmark these charts for quick and easy conversions in the kitchen.
Converting Recipes for Different Servings
Recipes typically yield a certain number of servings, but what if you need to adjust the recipe to feed more or less people? Understanding how to convert recipes can be a lifesaver in the kitchen, and it's surprisingly easy to do.
The first step in converting a recipe is to determine the yield you need. For example, if a recipe yields four servings but you need to feed six people, you'll need to increase the yield by 1.5 times. To do this, simply multiply the ingredient quantities by 1.5. If the recipe calls for 1 cup of flour, you'll need to use 1.5 cups instead.
On the other hand, if you need to decrease the yield, you'll need to do the opposite. If you're cutting the recipe in half, for example, you'll need to divide all ingredient quantities by 2. If a recipe calls for 2 tablespoons of butter, you'll only need to use 1 tablespoon.
It's important to note that converting recipes isn't always as straightforward as simply multiplying or dividing ingredient quantities. Some ingredients may need to be adjusted more carefully to ensure the final dish has the desired texture and flavor. For example, if you're making a cake and you cut the recipe in half, you may still need to use the full amount of baking powder to ensure the cake rises properly.
A good rule of thumb is to use your judgment and be willing to make adjustments as needed. Taste the dish as you cook and adjust seasoning as necessary. If something seems off, don't be afraid to experiment with adding a bit more of an ingredient to achieve the desired flavor.
Converting recipes can take a bit of practice, but once you've mastered the technique you'll be able to confidently adjust recipes to accommodate any number of servings.
Example
| Original Recipe | Converted Recipe |
| --- | --- |
| 1 cup all-purpose flour | 1.5 cups all-purpose flour |
| 1/2 teaspoon salt | 3/4 teaspoon salt |
| 1/4 teaspoon baking powder | 1/4 teaspoon baking powder |
| 1/4 teaspoon baking soda | 1/4 teaspoon baking soda |
| 1/2 cup milk | 3/4 cup milk |
| 1/4 cup vegetable oil | 1/4 cup vegetable oil |
| 1 egg | 1 egg |
Tips for Accurate Cooking Measurements
Accurate cooking measurements are essential for achieving the desired flavor and texture of your dishes. Here are some practical tips to help you measure ingredients accurately:
1. Use the Right Measuring Tools
Using the correct measuring tools is crucial to obtaining accurate measurements. For example, dry ingredients should be measured using measuring cups and spoons, while liquids should be measured using liquid measuring cups.
2. Level Dry Ingredients
When measuring dry ingredients, make sure to level off the measuring cup or spoon with a straight edge, such as a knife or spatula. This will ensure that you're not adding too much or too little of an ingredient, which could affect the flavor and texture of your recipe.
3. Use the Tare Function on Kitchen Scales
If you're using a kitchen scale to measure ingredients, make sure to use the tare function. This allows you to set the weight of the measuring container to zero, so you can accurately measure the weight of the ingredient you're adding.
4. Measure Liquids at Eye Level
When measuring liquids, it's important to do so at eye level. This will ensure that you're measuring the right amount and not overpouring or underpouring. Placing the measuring cup on a flat surface and bending down to check the level can help you get an accurate measurement.
5. Don't Skimp on Ingredients
When it comes to cooking, it's important to follow the recipe closely and use the recommended measurements. Skimping on ingredients or using inaccurate measurements can lead to a dish that doesn't turn out quite right.
6. Pay Attention to Temperature
Some ingredients, such as butter, need to be at a specific temperature for accurate measuring. Make sure to follow the recipe's instructions for bringing ingredients to room temperature or melting them before measuring.
Following these tips will help you achieve accurate cooking measurements and create dishes that are both delicious and consistent.
Common Measurement Substitutions
Have you ever found yourself in the middle of a recipe only to realize you're missing a crucial ingredient or tool? Don't let this culinary mishap derail your meal prep – try some of these common measurement substitutions to salvage your dish!
Dry Ingredients
If you're low on flour, sugar, or other dry ingredients, fear not – you likely have some viable substitutes in your pantry. One tablespoon of cornstarch can be used in place of one tablespoon of flour for thickening sauces or gravies. Similarly, one cup of rolled oats can be pulsed in a food processor and used as a replacement for one cup of flour in baked goods. And for a healthier twist, try swapping out sugar for honey or maple syrup – just keep in mind that these substitutes are sweeter than sugar, so adjust accordingly.
Liquid Ingredients
When you're out of milk, cream, or other liquid ingredients, there are a few simple substitutes you can use. For one cup of milk, mix together one cup of water and three tablespoons of powdered milk. In place of cream, try using half-and-half or a combination of milk and melted butter. And if you don't have buttermilk on hand, mix together one tablespoon of lemon juice or vinegar with one cup of milk and let it sit for five minutes before using.
Measuring Tools
Forgot your measuring cups or spoons? Don't fret – there are a few tricks you can use to approximate your measurements. One tablespoon is equivalent to three teaspoons, and one cup is equivalent to 16 tablespoons. For measuring liquids, try using a kitchen scale and measuring by weight instead of volume. And remember, if you have a recipe that calls for a specific amount of an ingredient in ounces or grams but you only have measuring cups and spoons, a quick Google search can help you find conversion charts and formulas.
With these common measurement substitutions in your cooking arsenal, you'll be able to adapt and improvise in any culinary situation. Happy cooking!
Conclusion
Congratulations! You have now completed your crash course in cooking measurements and conversions. By mastering the different units of measurement, converting between them, and using helpful tools like measurement conversion calculators and reference charts, you are on your way to becoming a precision chef.
Remember to keep in mind the importance of accuracy in cooking measurements to achieve the desired results. By following the practical tips for accurate measurement techniques, you can ensure your dishes are both delicious and presentable.
Don't forget that recipe conversions are also essential when serving different numbers of people. Scaling up or down ingredients can be done easily with the techniques provided, allowing you to adjust recipes to suit any party size.
And finally, in the event that you don't have access to certain measurements or ingredients, keep in mind the common measurement substitutions provided to avoid any future kitchen mishaps.
Put your newfound knowledge into practice and take your cooking skills to the next level. Happy cooking!