Attention all keto lovers! Are you tired of bland salads that taste like sadness and regret? Do you find yourself dousing your greens with store-bought dressings full of sugar and preservatives, only to feel guilty afterward? Fear not, because today we're going to spice things up (literally) with some delicious homemade keto friendly salad dressings. These dressings are so good, they might just make you forget about the carbs you're missing out on. So put down that ordinary vinaigrette and get ready to impress your taste buds (and maybe even your friends) with these tasty creations.
Avocado lovers, rejoice! This creamy and delicious avocado dressing is perfect for your keto salad needs. It's packed with healthy fats and nutrients to keep you satisfied and energized throughout the day. Plus, it's super easy to make.
Start by blending together a ripe avocado, some fresh cilantro leaves, lime juice, garlic powder, salt, and pepper. Give it a taste test – if it's too thick, add in some water until you reach the desired consistency.
This dressing is great on its own or as a base for other flavors like spicy jalapeño or tangy lemon. So go ahead and get creative with your salads – this avocado dressing will be the perfect addition!
And don't forget – making your own dressings at home is not only healthier but also more budget-friendly than buying pre-made options at the store. So give this recipe a try and let us know what you think!
2. Olive Oil and Lemon Dressing
Ah, the classic olive oil and lemon dressing. Simple yet delicious, this is a go-to for any salad lover on keto.
To start, mix together two parts olive oil to one part lemon juice (freshly squeezed is always best). Add in some minced garlic, salt, and pepper to taste. Give it a good whisk or shake in a jar to emulsify the ingredients.
This dressing works great with simple salads like arugula or spinach topped with sliced almonds and shaved Parmesan cheese. It's also perfect for marinating chicken or fish before grilling.
But let's be real here – this dressing would make cardboard taste good! So go ahead and experiment with different greens and toppings until you find your perfect match. Just remember to keep it keto-friendly by avoiding high-carb add-ins like croutons or dried fruit.
So next time you're craving some greens but don't want to sacrifice flavor, whip up this easy olive oil and lemon dressing. Your taste buds (and waistline) will thank you!
If you're looking for a tangy and flavorful dressing, you might want to try the Mustard and Apple Cider Vinegar Dressing. This dressing is perfect for adding some zing to your keto salads. It's simple to make with just a few ingredients but packs some serious flavor.
Start by mixing together Dijon mustard, apple cider vinegar, olive oil and some salt and pepper. Give it a good whisk until everything is well combined.
The result is a tangy dressing that pairs perfectly with greens like spinach or arugula. It's also great on roasted vegetables or as a marinade for chicken or fish.
If you want to add even more depth of flavor, try adding some minced garlic or chopped herbs like thyme or rosemary. And if you like extra spicy things, add some red pepper flakes.
With this Mustard and Apple Cider Vinegar Dressing recipe in your arsenal, you'll never have to settle for boring salads again!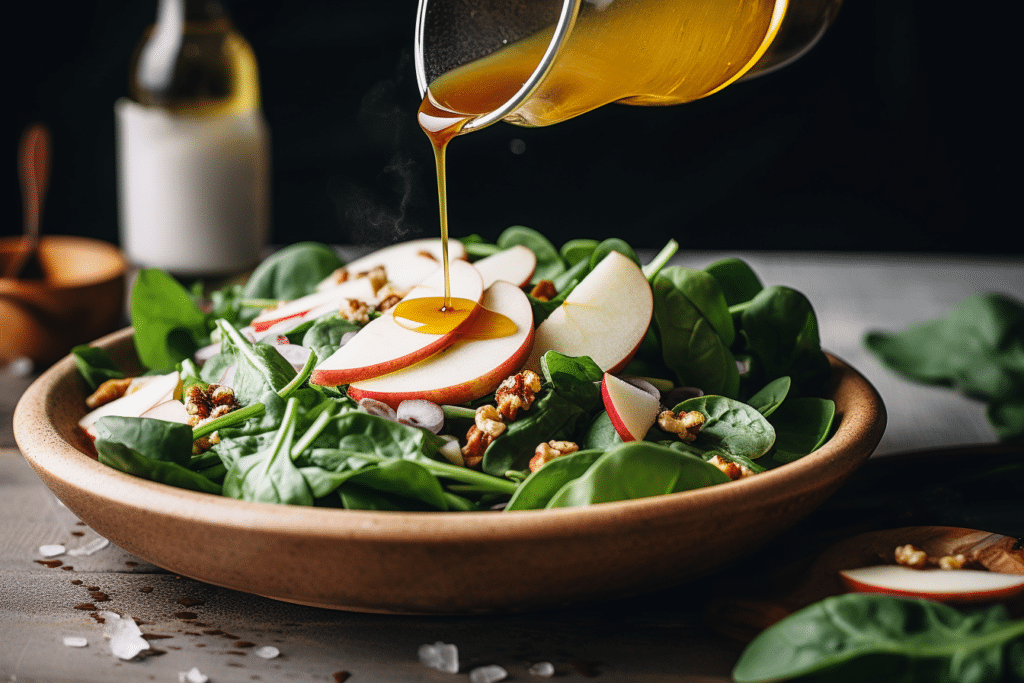 Let's talk about the Creamy Cilantro Lime Dressing because who doesn't love cilantro? This dressing perfectly blends fresh cilantro, tangy lime juice, and creamy goodness. It's like a party in your mouth!
To make this dressing, you'll need some Greek yogurt, mayo (yes, it's keto-friendly!), garlic powder, salt and pepper to taste. But the star of the show is definitely the fresh cilantro and lime juice.
Start by blending together your Greek yogurt and mayo until smooth. Then add in your minced garlic or garlic powder along with some salt and pepper to taste. Next up comes the chopped cilantro – don't be shy with this! The more cilantro, the better.
Finally, squeeze in some fresh lime juice for that zesty kick that will take your salad to new heights. Mix everything together until well combined and voila! You have a deliciously creamy keto salad dressing that will make even non-salad lovers reach for their greens.
So go ahead and give this one a try – your tastebuds will thank you!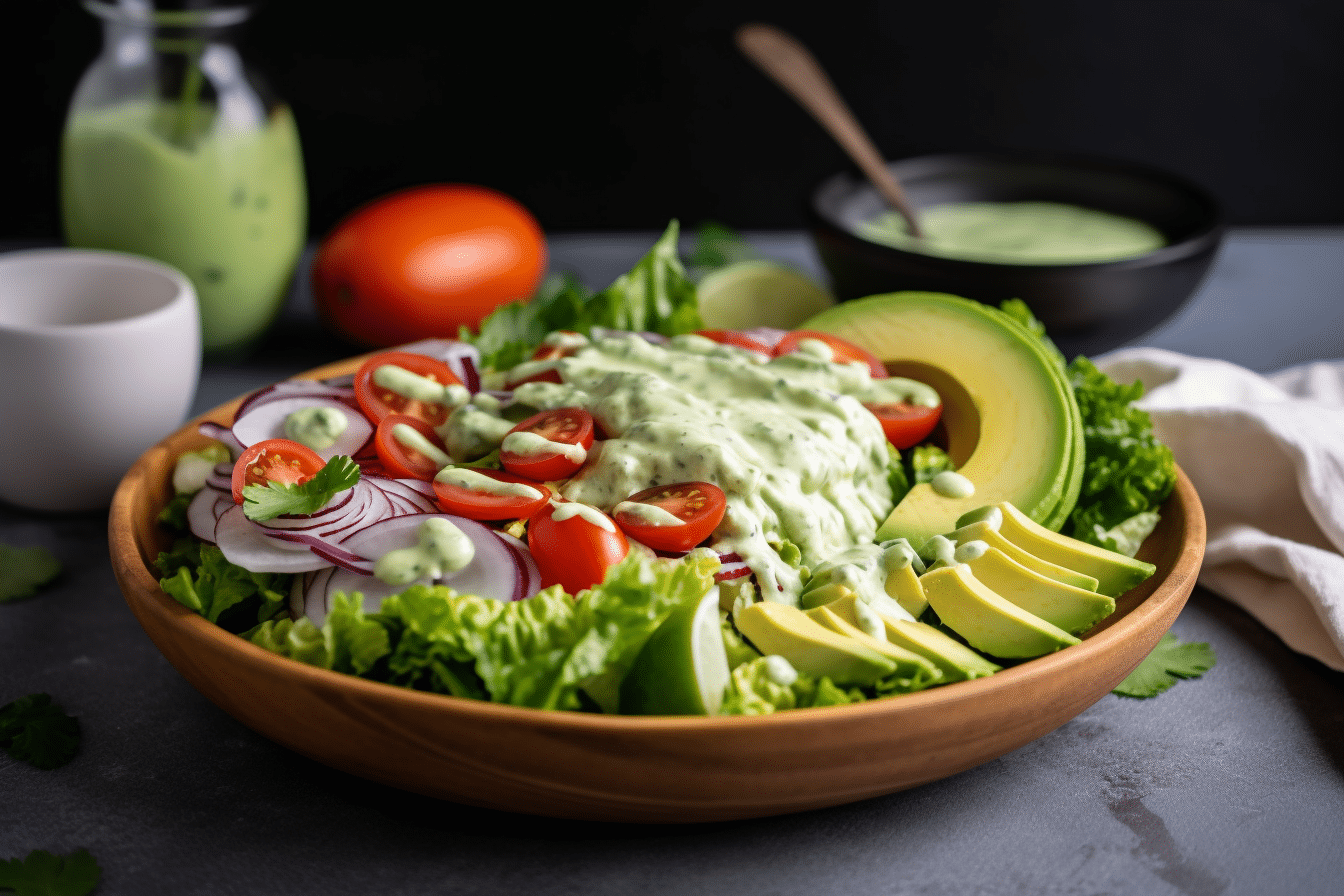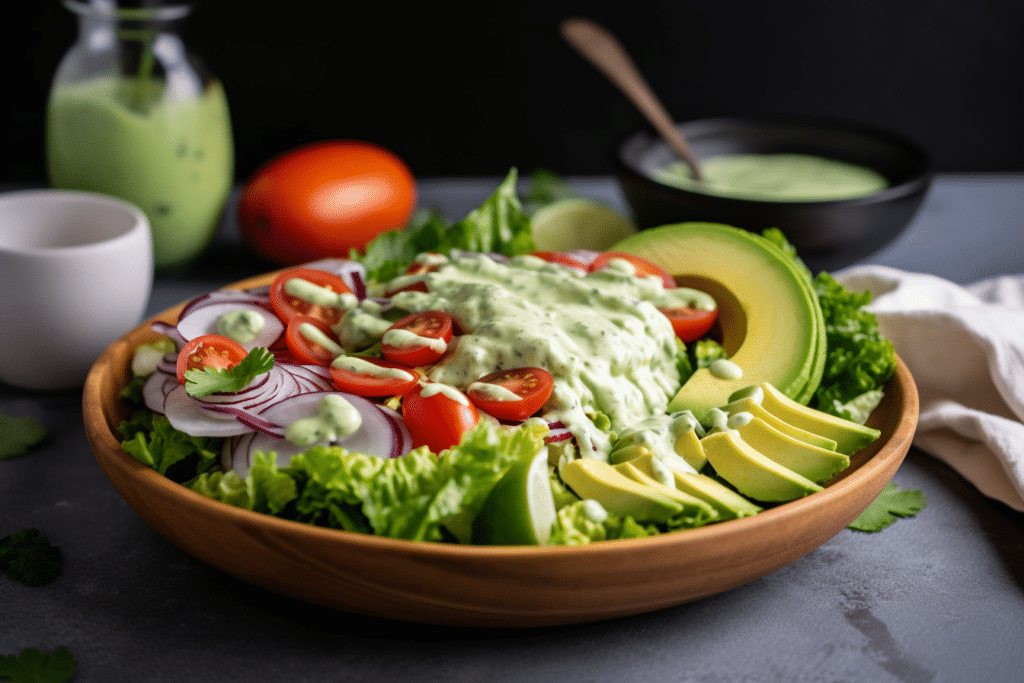 5. Keto Caesar Dressing
Who doesn't love a classic Caesar salad? Unfortunately, the traditional dressing can be packed with carbs and unhealthy ingredients. But fear not, because a keto-friendly version is easy to make at home! Start by combining garlic, anchovy paste, Dijon mustard, lemon juice, and Worcestershire sauce in a blender or food processor. Slowly add olive oil until the mixture becomes smooth and creamy. Finally, stir in some grated Parmesan cheese and season with salt and pepper to taste. This Keto Caesar Dressing will have you saying "Et tu Brute-iful!" as you enjoy your delicious salad without any guilt or carb overload.
But don't stop there – mix things up with your salads by trying some of the other keto dressings on our list. From Creamy Cilantro Lime to Mustard Apple Cider Vinegar to Keto Blue Cheese, there's no shortage of tasty options that won't derail your low-carb lifestyle. And remember our tips for making the perfect keto salad dressing: use healthy fats like olive oil or avocado mayo as a base; experiment with different vinegars for added flavor; and don't be afraid to get creative with herbs and spices.
So skip the bottled dressings full of sugar and artificial junk – whip up your own delicious keto dressings at home instead! Your taste buds (and waistline) will thank you.
6. Keto Ranch Dressing
Ah, ranch dressing. The classic American favorite that goes well with just about anything, but unfortunately isn't always the healthiest option. Luckily, with this keto-friendly version of ranch dressing, you can indulge in your cravings while staying on track with your diet.
To make this delicious keto ranch dressing, start by combining some sour cream and mayonnaise in a bowl. Then add in some minced garlic and onion powder for flavor, along with a touch of dried dill weed and chives for an extra kick.
Mix it all together until it's nice and creamy, then season to taste with salt and pepper. And voila! You've got yourself a tasty keto ranch dressing that will take your salads from bland to grand.
And if you're feeling adventurous (or just really love cilantro), try adding some chopped fresh cilantro to the mix for a zesty twist on this classic recipe. Trust us, your taste buds will thank you.
So go ahead and whip up a batch of this delicious keto ranch dressing today. Your salads (and waistline) will thank you later!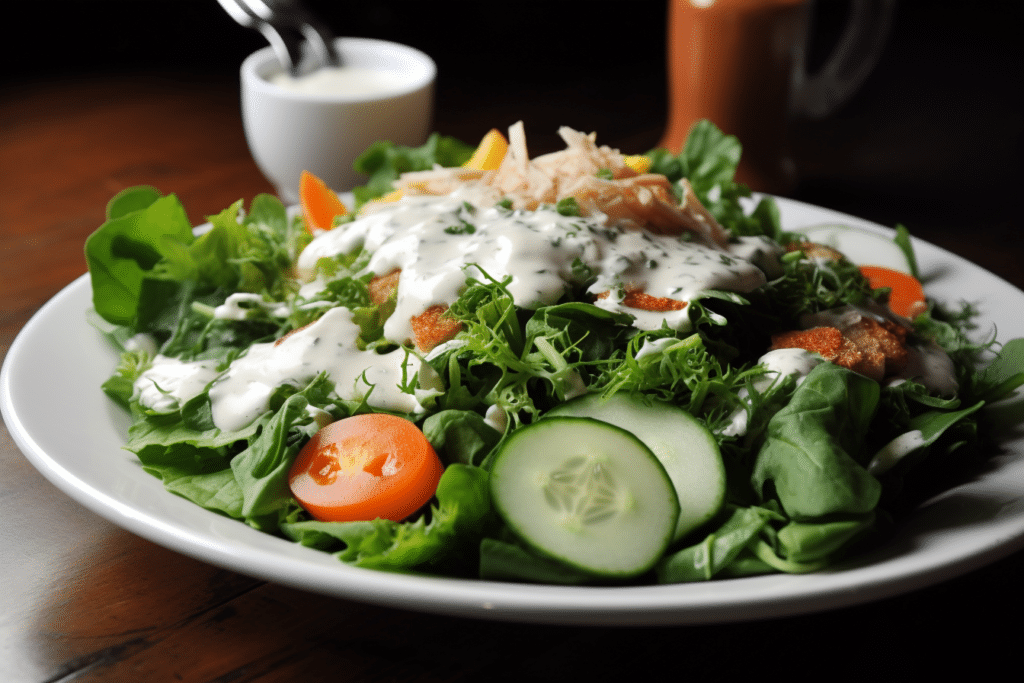 Ah, blue cheese dressing. Some people love it, while others can't stand the smell of it. But for those who do enjoy this funky flavor, it can be a great addition to a keto salad.
To make a keto-friendly blue cheese dressing, start with some sour cream or Greek yogurt as the base. Then add in crumbled blue cheese (the stinkier the better!) and some heavy cream to thin it out.
For that extra kick of tanginess, you can also mix in some apple cider vinegar or lemon juice. And don't forget to season with salt and pepper to taste.
Once everything is mixed together, give it a taste test and adjust any flavors as needed. You'll end up with a deliciously creamy dressing that's perfect for topping off your favorite low-carb greens.
Just be warned: This one might not be for everyone!

Ah, the classic Italian dressing. You might be thinking "how can I make this keto-friendly?" Well my friend, fear not! The answer lies in using healthy fats like olive oil, and avoiding added sugars or processed ingredients.
For a delicious keto Italian dressing, start with a base of extra virgin olive oil and apple cider vinegar. Then add in some minced garlic, dried oregano and basil for that classic Italian flavor. For a bit of sweetness without the carbs, try adding a few drops of liquid stevia or monk fruit sweetener. And if you are feeling adventurous, throw in some crushed red pepper flakes for an added kick!
This zesty dressing is perfect to drizzle over a bed of mixed greens or use as a marinade for chicken or steak on your next keto meal prep day.
So ditch those store-bought dressings filled with sugar and chemicals and make your own keto-friendly version at home instead – you won't regret it!
Making keto salad dressings can be a fun and creative process. Here are some tips to help you get started:
– Experiment with different herbs and spices to add unique flavors to your dressing. Don't be afraid to mix and match!
– Use high-quality oils, such as avocado oil or olive oil, for a healthier option that's still delicious.
– For a creamier consistency, try adding some Greek yogurt or sour cream.
– Taste test along the way! Adjust the ingredients as needed until you find the perfect balance of flavors.
Remember, making your own salad dressing is not only tastier but also healthier than store-bought options. Plus, you'll impress all your friends at your next dinner party with your homemade dressings. So get creative and have fun in the kitchen!
Keto Friendly Salad Dressings Conclusion
Phew! That's a lot of salad dressings to choose from, but now you're equipped with an arsenal of keto-friendly options to make any boring bowl of greens taste amazing. Don't be afraid to get creative and experiment with different spices, herbs, and flavors to find your perfect combination. And remember, just because it's keto doesn't mean it has to be bland or boring. These dressings are proof that you can enjoy delicious food while still sticking to your dietary goals. So next time you're craving a salad, don't settle for store-bought dressing filled with hidden sugars and carbs – whip up one of these homemade keto dressings instead! Your tastebuds (and waistline) will thank you.